Project Phoenix in 29 Palms
WHAT IS PROJECT PHOENIX?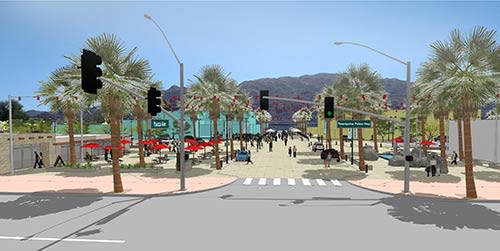 The development plan includes an approximately 11,000 square foot Community Center with a gymnasium/multipurpose room, and a new 4,100 square foot Joshua Tree National Park Cultural and Visitor Center. The site will also contain a 10,000 square foot entry plaza and a three-block long Paseo serving the businesses along Rt. 62. Yucca Avenue will be redesigned as an event space that can be closed for special events such as festivals, farmers markets, art shows, car shows, and musical events. A large stage will grace the event space at the corner Yucca Avenue and the Paseo parking lot between the Community Center and the Visitor Center. Over 200 new public parking spaces will be provided in desert landscaped parking lots in addition to 150 new on-street parking spaces. Parking will also be available for tour buses and RVs. Desert landscaping, ornamental streetlights, benches, and public art will enhance the streetscapes and plaza. The entire area will be served by a new public sewer system and upgraded water system. Future plans include the development of affordable housing in the project area.
WHERE IS PROJECT PHOENIX LOCATED?
The project site is located on approximately 10 acres, from Twentynine Palms Highway (Rt. 62) south to Cactus Drive, and from Cholla Avenue on the east to Tamarisk Avenue on the west, in downtown Twentynine Palms.