Art Galleries & Studios
29 PALMS ART GALLERY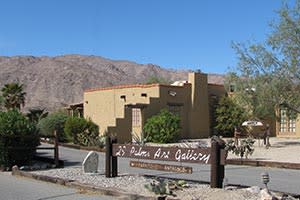 The 29 Palms Art Gallery is owned and operated by the 29 Palms Artists' Guild, the oldest arts organization in the Morongo Basin, founded by a group of prominent desert artists in 1951-52, including famed desert landscape painter John Hilton (who served as its first president), Merritt Boyer, Evelyn Hutchinson, Michael Malloy, Kirk Martin, Vera Martin, Edna Onderdonk, and Fritiof Perssons. The gallery is incorporated as an all-volunteer, 501(c)(3) non-profit organization to "create a spirit of cooperation and fellowship between the artist and the public."
In 1963, the Guild purchased a historic adobe at the Oasis of Mara (built in 1936 by the Stubbs Brothers as a home for western pulp fiction author Tom Hopkins). The adobe has served as the Guild's permanent art gallery and gift shop for 55+ years. Monthly art shows feature desert art from September through June, with a Summer Show by Artists' Guild members. Art receptions are held on the first Saturday of the month, 5 to 7 p.m. Art classes are offered for all ages throughout the year. The gallery also hosts seasonal events like the annual Pioneer Days Chili Dinner and a Holiday Art & Craft Fair, creative fund-raisers, art auctions, Monday morning Paint-Outs. A gift shop on the premises helps to fund the gallery. Open 11 a.m. to 3 p.m. Friday through Sunday.
29 Palms Art Gallery
74055 Cottonwood Drive (off National Park Drive)
Twentynine Palms, CA 92277
(760) 367-7819
www.29palmsartgallery.com
29 PALMS CREATIVE CENTER & GALLERY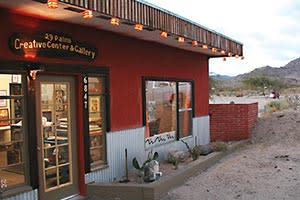 Explore your creative side and see the artistic underground that exists here in the desert. The 29 Palms Creative Center & Gallery welcomes visitors! Browse the art gallery. Book an Art Party with your friends. Schedule an art event for kids or adults. Artist/owner Gretchen Grunt and Selina Phanara offer art activities for the local or traveling art adventurer. The Creative Center welcomes walk-ins to paint pottery and create a canvas painting in the inspiring OPEN studio. Choose from a wide selection of ready-to-paint pottery: cups, plates, tiles & tons of figurines, starting at $15 (plus tax); plus instant canvas painting, starting at $20 (plus tax).
29 Palms Creative Center is a working-studio/gallery environment for professional, amateur, or budding artists to make mosaics, paintings, drawings, monotype prints on a Griffin Etching Press, fabric art, jewelry, hand-made books, painted ceramics, and more. Classes are offered year-round for adults, teens, and children, for groups or personal instruction. An Art Camp for kids and teens is offered in the summer. The art gallery exhibits local talents with jewelry, fabric art, paintings, pottery, fused glass, metal art, desert nuances and the recent art created by the studio artists who work on the premises. Open Monday through Saturday from 11 a.m. to 5 p.m., and by appointment for "Art After Dark."
29 Palms Creative Center & Gallery
6847 Adobe Road
Twentynine Palms, CA 92277
(760) 361-3461
www.29palmsart.com 
GLASS OUTHOUSE ART GALLERY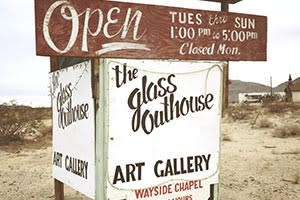 The Glass Outhouse Art Gallery is one of Twentynine Palms' most unusual sites to see, located just east of downtown in Wonder Valley. Monthly art shows are celebrated with an art reception on first Saturdays of the month, with food, beverages, live music, and camaraderie. The gallery features desert artists, photographers, and musicians. Yes, there is a real glass outhouse, plus a hand-built Wayside Chapel and found-object art installations throughout the property. Admission free. Open Tuesday through Sunday, 1 to 5 p.m. (Closed July-August)
The Glass Outhouse Art Gallery
77575 29 Palms Hwy. (Hwy. 62)
Twentynine Palms, CA 92277
(760) 367-3807
www.facebook.com/TheGlassOuthouseartGallery
(Turn right off Highway 62 onto Thunder Road. Honk your horn! )
Annual Art Events
JOSHUA TREE NATIONAL PARK ART EXPOSITION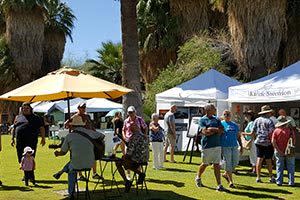 www.jtnparts.org
The annual fall Joshua Tree National Park Art Exposition features a juried exhibition with artwork depicting or inspired by Joshua Tree National Park created by more than 50 artists from California and across the U.S. The exhibition will be on display at 29 Palms Art Gallery through the month of November. The Art Expo celebration weekend features an Art Market with artist booths, food and beverages; plus free art demonstrations and the exhibition at 29 Palms Art Gallery; live music by Hunter and the Wick'd; exhibits at the Old Schoolhouse Museum; nature walks at the Oasis of Mara, and more. Admission free.
Presented by Joshua Tree National Park Council for the Arts. www.jtnparts.org.
HWY 62 ART TOURS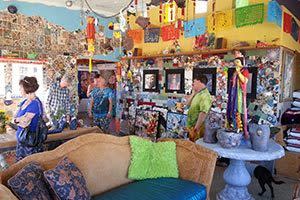 www.hwy62arttours.org
The Hwy 62 Open Studio Art Tours is a one-of-a-kind experience for art lovers and art buyers/collectors to create a customized self-guided tour of the art studios in the Joshua Tree Gateway Communities and to speak directly with the artists about their work and creative endeavors in the intimacy of their private work spaces. Purchase art directly from more than 150 desert artists, tour their habitats and art studios, visit local gallery exhibitions, and enjoy a variety of ancillary cultural events. Full-color catalogs and art maps available at local galleries and chambers of commerce and on their website. It's a great treasure hunt!
Presented by Morongo Basin Cultural Arts Council www.hwy62arttours.org.
OASIS OF MURALS AND PUBLIC ART
See our Oasis of Murals page for the world-class outdoor murals painted in Twentynine Palms since 1994. (See the downloadable PDF brochure and map on the page.)
Also see our Public Art page for various sculptures and public art installations over the past 2+ decades in the community. (Their locations are identified on a downloadable PDF map.)
The Oasis of Murals was started in 1994 by a local Merchants Committee, by 2014, they had commissioned 26 outdoor murals, illustrating the colorful history of Twentynine Palms and portraying the flora and fauna of the Mojave Desert and neighboring Joshua Tree National Park.
Today, the historical society continues to preserve and interpret the historical heritage of the Twentynine Palms area through a variety of museum displays, special collections, an extensive library, historical gatherings, educational lectures, and a quarterly newsletter.
The season at THEATRE 29 is underway at the Morongo Basin's premiere theatrical venue! Theatre 29 is an all-volunteer, Community Theater Organization, which presents family-friendly community theater productions on stage year-round at Theatre 29, 73637 Sullivan Road in the City of Twentynine Palms.