Family Fun
FAMILY-FRIENDLY 29!
Twentynine Palms is a family-friendly destination. From a variety of food and lodging options to its proximity to Joshua Tree National Park to a long list of local attractions, activities, and events, there is always something to do. See our Explore and Attractions sections, including the Parks page, for information about our community parks, playgrounds, public swimming pool, and skateboard park. And visit our Calendar of Events so you can plan ahead to attend one of our many community events.
29 PALMS ART GALLERY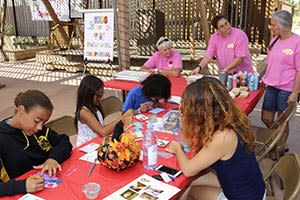 The 29 Palms Art Gallery features monthly exhibitions and hosts art education classes for all ages throughout the year for a minimal fee. Members of the 29 Palms Artists' Guild receive a discount, and adult and student memberships are available.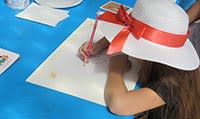 See their website for a schedule of art activities for youth and adults, plus seasonal events and fundraisers. A historic landmark in the community since 1963, the gallery is open Thursday through Sunday, 11 a.m. to 3 p.m., (Summer hours: Fri-Sun 12 p.m. to 3 p.m.) with monthly desert art shows featuring work by Guild members and other desert artists, and monthly receptions on the First Saturday, 5 to 7 p.m. Admission free. 74055 Cottonwood Drive (off National Park Drive), Twentynine Palms, CA 92277, (760) 367-7819. www.29palmsartgallery.com
29 PALMS ART GALLERY YOUTH ART PROGRAMS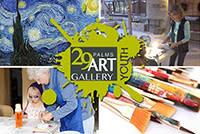 New in 2018: Join the 29 Palms Art Gallery Youth Art Programs. Join today and receive all the benefits and discounts of a Gallery member, plus a membership card and T-shirt. Each program has its own age-appropriate class line-up. Visit www.29palmsartgallery.com for the full art class schedule for the year. Youth Art Club includes sketch books, line drawing, cartoon drawing, clay masks, printmaking, collage, assemblage, beading and jewelry. Youth Art Academy topics range from Cave Art and Pictographs to Renaissance painting, Impressionism, Commercial Art, Abstract Expressionism and more.
Youth Art Club: ages 5-11
Meet monthly on 1st Saturdays, 9 – 10:30 am
Youth Art Academy: ages 12-17
Meet monthly on 1st Mondays, 4 – 6 pm
HOW TO JOIN
1. Join online at: www.29palmsartgallery.com
2. Complete this application form, and mail or deliver to:
29 Palms Art Gallery
74055 Cottonwood Dr., 29 Palms, CA 92277
ART HAPPENINGS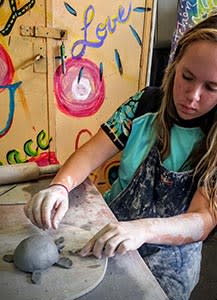 The 29 Palms Creative Center & Gallery welcomes walk-ins of all ages to paint pottery or create a canvas painting in the inspiring open studio. Gretchen Grunt and Selina Phanara offer art activities directly out of their studios for the local or traveling art adventurer. Choose from a selection of ready-to-paint pottery: cups, plates, tiles, and tons of figurines, starting at $15 (plus tax); or instant canvas painting, starting at $20 (plus tax) a canvas. The Creative Center also offers a variety of instructed art classes for children, adults, groups, including paint nights, art parties, and Summer Art Camp.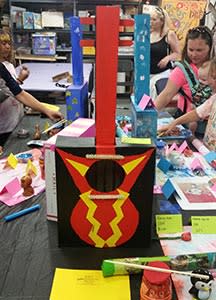 The Creative Center is open to the public Tues-Sat 11 a.m. to 5 p.m., and by appointment for "Art After Dark" parties. The art gallery also exhibits local jewelry, fabric, art, pottery, fused glass, desert nuances and recent art created by the studio artists who work on the premises. 6847 adobe Road, Twentynine Palms, CA 92277, (760) 361-3461. www.29palmsart.com
JUNIOR RANGER PROGRAM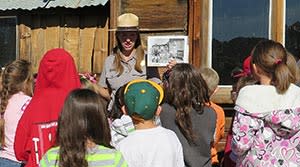 "Explore, Learn, Protect!" (Junior Ranger motto) Like many other national parks, Joshua Tree offers young visitors the opportunity to join the National Park Service "family" as Junior Rangers. Interested youth complete a series of activities during a park visit, share their answers with a park ranger, and receive an official Junior Ranger badge. Junior Rangers are typically between the ages of 5 to 13, although people of all ages can participate. Kids visiting Joshua Tree National Park may earn a Junior Ranger badge by completing a number of activities as they explore the park. The Junior Ranger booklet is available at park entrance stations and visitor centers. Booklet activities include drawing, writing, attending a ranger program, and picking up trash in the park. Stop by the new Joshua Tree National Park Visitor Center in downtown Twentynine Palms at 6533 Freedom Way. www.nps.gov/jotr/learn/kidsyouth/beajuniorranger.htm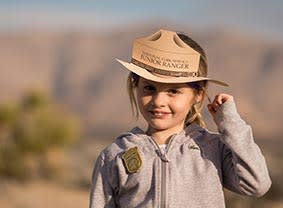 Joshua Tree also participates in national Junior Ranger programs like Junior Paleontologist, Junior Ranger Night Explorer, and Wilderness Explorer. www.nps.gov/kids/jrRangers.cfm
Can't make it to a park? Learn how to become a WebRanger! www.nps.gov/webrangers
 
YOUNG HISTORIAN PROGRAM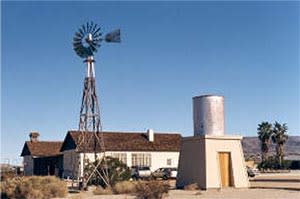 The Twentynine Palms Historical Society hosts a program to encourage youth to become more familiar with the history of our area, which has been a crossroads and melting pot for many cultures throughout time. Exhibits at the Old Schoolhouse Museum touch on the history of our local Native Americans, gold miners, cattlemen, early desert homesteaders and pioneer families, and the military. It is a wonderful launch point for young minds.
Accompanied by an adult, the prospective Young Historian will:
1. Complete the Hunting for History at the Old Schoolhouse Museum.
2. Complete a Mural Tour of Twentynine Palms and visit Veterans Park.
3. Visit Joshua Tree National Park Oasis Visitor Center and walk the Oasis of Mara Nature Trail.
4. On the Old Schoolhouse grounds, walk the Frances Sabol Eco Trail, visit the Old Mining and Hastie Bus Exhibits, and describe the Twentynine Palms Historical Society logo to the docent on staff.
Once this mission is complete, each inductee will receive a commemorative T-shirt designating their new status as a Young Historian. The program currently focuses on students in grades 3 through 6. Admission is FREE to the museum. Open Wednesday through Sunday, 1 to 4 p.m. (or Friday, Saturday, Sunday during summer months, Goes back to normal hours in Sept). Old Schoolhouse Museum, 6760 National Park Drive, Twentynine Palms, CA 92277, (760) 367-2366. www.29palmshistorical.com
SKY'S THE LIMIT OBSERVATORY & NATURE CENTER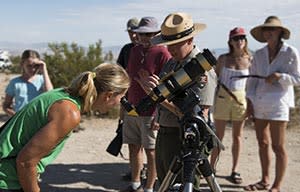 Bring the whole family to one of the free star parties on Saturday nights (except during full moon) at Sky's The Limit Observatory, located at the top of Utah Trail right next to the north entrance to Joshua Tree National Park in Twentynine Palms. The campus is open every day for people to stop by, walk the nature trail, experience the sculptures and meditation garden, and view the native plant life and orrery (model of the solar system). Of course, the real excitement happens on several Saturday nights each month when local and visiting astronomers take you on a tour of the night sky, with various telescopes set up on site, including the 14-inch Celestron Schmidt-Cassegrain telescope in the astronomical dome. Bring your own chairs, snacks and water. Admission free. 9697 Utah Trail, Twentynine Palms, CA 92277, Ray (760) 365-7897. www.skysthelimit29.org
MOJAVELAND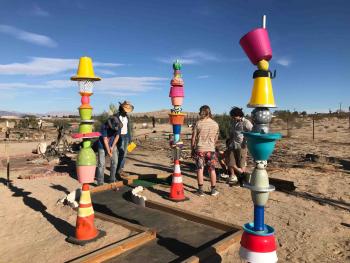 Mojaveland is a family-friendly miniature golf and art center that is open once a month. Each of our 13 holes is designed by a different High Desert artist. Please check the website or social media for dates. Mojaveland is a non-profit organization, fiscally sponsored by Arts Connection – the Arts Council of San Bernardino County. Admission is free and Mojaveland is located at 5157 Adobe Road in Twentynine Palms, CA. www.Mojaveland.com
Enjoy movies under the desert night sky at Smith's Ranch Drive-In in Twentynine Palms. Current featured movies and showtimes…
The City of Twentynine Palms Community Services Department and the Parks & Recreation Department provide a multitude of…