Celestial Events
Your Guide To The Night Sky – 2023 Celestial Events Calendar
03 Jan
Get your telescopes and binoculars ready, 2023 is set to be another exciting year for celestial events! From meteor showers and supermoons, to fascinating planetary oppositions and a solar eclipse, there's a lot to look forward to in the night sky in 2023, and no better place to take it all in than from 29 Palms, California.
Before we get into all the exciting upcoming celestial events to add to your calendar, here's three reasons why 29 Palms is the perfect year-round stargazing destination in southern California:
1. Stay minutes from Joshua Tree National Park, an official International Dark Sky Park
As a proud recipient of the International Dark Sky Association's prestigious Dark Sky Park designation in 2017, Joshua Tree National Park boasts some of the darkest skies in southern California and regardless of which hotel, RV resort, or vacation rental you book in 29 Palms, you'll be staying just minutes from the park's main north entrance and spectacular, year-round night sky viewing. With nearly 800,000-acres to roam, minimal light pollution, advantageous elevation gains, and clean, crisp air, the stars pop in the night sky, making this iconic national park a hotspot for stargazing and astronomy enthusiasts.
2. Take in the night from Sky's The Limit Observatory and Nature Center, recently ranked by AAA as one of the Best Stargazing Locations in the West.
There's no better place in 29 Palms to spend the evening under the stars than at Sky's The Limit Observatory and Nature Center! Ranked by AAA as one of the Best Destinations in the West for stargazing and astronomy, and sharing a border with Joshua Tree National Park,  this 15-acre campus features an observatory dome that houses a 14" Celestron Schmidt-Cassegrain telescope, an Orrery representing a true-to-scale and position model of the Solar System at 20 billion to 1, a solar calendar/sundial that marks the hours as well as the solstices and equinoxes, plus a Meditation garden based on Zen design principles. To learn more, and start planning your visit, check out www.skysthelimit29.org
3. Discover the night sky the way it was meant to be seen with a private stargazing experience with the 29 Palms Astronomy Club.
Whatever time of year you plan your visit to 29 Palms and Joshua Tree National Park, the 29 Palms Astronomy Club is ready to bring the epic grandeur of the night sky to you, from the comfort and privacy of your campsite, hotel, vacation rental, or place of residence. The 29 Palms Astronomy Club offers private night sky presentations, led by passionate and expert astronomers who provide fun and interactive cosmic tours of the stunning night sky with high-powered telescopes, providing you with the opportunity to experience the night sky the way it was meant to be seen. To learn more, visit 29palmsastronomy.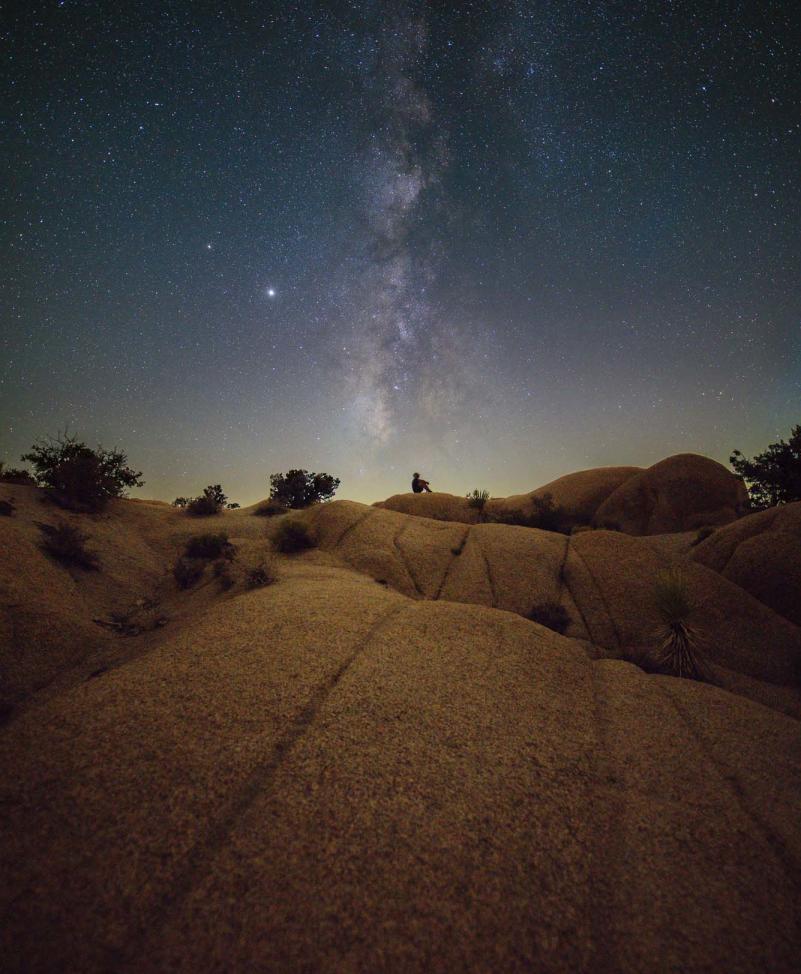 Celestial Highlights of 2023:
January 2023
January 3-4: Quadrantid Meteor Shower Peak
January 6: Full Moon (Wolf Moon)
January 21: New Moon
January 30: Mercury at Greatest Western Elongation
February 2023
February 6: Full Moon (Snow Moon)
February 20: New Moon
March 2023
March 7: Full Moon (Worm Moon)
March 20: Spring Equinox
March 21: New Moon
April 2023
April 6: Full Moon (Pink Moon)
April 11: Mercury at Greatest Easton Elongation
April 20: New Moon
April 22-23: Lyrid Meteor Shower Peak
May 2023
May 5: Full Moon (Flower Moon)
May 5-6: Eta Aquarid Meteor Shower Peak
May 19: New Moon
May 29: Mercury at Greatest Western Elongation
June 2023
June 3: Full Moon (Strawberry Moon)
June 4: Venus at Greatest Eastern Elongation
June 18: New Moon
June 21: Summer Solstice
July 2023
July 3: Full Moon (Supermoon/Buck Moon)
July 17: New Moon
July 29-30: Delta Aquarid Meteor Shower Peak
August 2023
August 1: Full Moon (Supermoon/Sturgeon Moon)
August 10: Mercury at Greatest Eastern Elongation
August 12-13: Perseid Meteor Shower Peak
August 16: New Moon
August 27: Saturn at Opposition
August 30: Full Moon (Supermoon/Blue Moon)
September 2023
September 15: New Moon
September 19: Neptune at Opposition
September 22: Mercury at Greatest Western Elongation
September 23: Autumn Equinox
September 29: Full Moon (Supermoon/Harvest Moon)
October 2023
October 8-10: Draconid Meteor Shower Peak
October 14: New Moon
October 14: Solar Eclipse
October 20-21: Orionid Meteor Shower Peak
October 23: Venus at Greatest Western Elongation
October 28: Full Moon (Hunter's Moon)
November 2023
November 3: Jupiter at Opposition
November 5: South Taurid Meteor Shower Peak
November 13: New Moon
November 12: North Taurid Meteor Shower Peak
November 13: Uranus at Opposition
November 17-18: Leonid Meteor Shower Peak
November 27: Full Moon (Beaver Moon)
December 2023
December 4: Mercury at Greatest Easter Elongation
December 12: New Moon
December 13-14: Geminid Meteor Shower Peak
December 21-22: Ursid Meteor Shower Peak
December 22: Winter Solstice
December 26: Full Moon (Cold Moon)